I have bought a car!
If you are in the Bay Area you better watch out.. Not only because Santa Claus is coming to town but even more so because there is now a blue 2007 Honda Civic roaming the streets with a crazy Swede behind the wheel!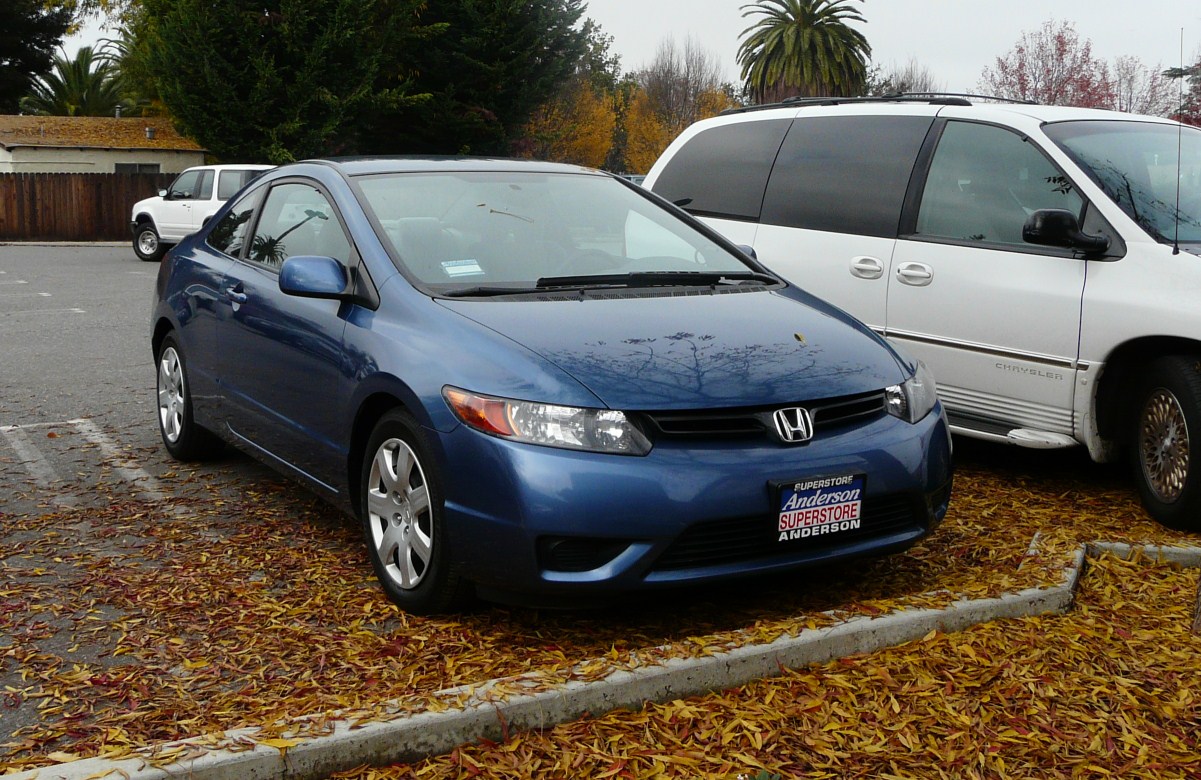 The process of buying the car started with me signing up for Stanford Federal Credit Union, as I told about in a previous post. They would give me an auto loan even though I have no US credit history what so ever. At a higher interest rate than otherwise of course. But if I could make a down payment of at least 30% the rate would not be that much higher than a normal US citizen would get.
The credit union also had an "auto finding service" where they had contact with several dealers and hopefully could make a good deal. If I used that I would also get a slightly lower interest rate. I'm sure that I could get an even better deal if I knew a lot about cars, the used car market and was a kick ass negotiator. But I decided to use that service.
So I filled out a form of what kind of car what I was interested in. After a phone call with Debbie that was running the auto finding service I was given the home work of going to test drive some cars to find out what type of car I actually was interested in. Apparently my rather generic requests of "good economy", "comfortable" and "four wheels" were not good enough. I needed to come up with one ore two specific models that we could go look for.
So after some test driving I decided that a Honda Civic would be a good car for me. Like most Japanese cars the reselling value is pretty good and it has a good size. It's also one of the most sold cars in USA so there should be plenty of 3-4 year old cars on the market.
So back to Debbie to find me a good deal for a Honda Civic with manual transmission. Unlike Sweden automatic transmission is much more common here. But I like driving with changing gears myself and I don't want to forget how to drive like that. Unfortunately Debbie couldn't find any Civic with manual transmission.. I had to tell her that the place where I had test driven the Civic were announcing two 2007 cars with manual transmission on their web site. (One of them was the car I had actually tested.)
She contacted them and got a deal for one of them that was a little bit under the price announced on the web site. And it was the very car I had tested before. So on Tuesday I went to Anderson Honda in Palo Alto to buy a car!
When I got there I met up with a seasoned car salesman named Jack. A really nice guy but still a car salesman.. We started with me taking a closer look at the car I was about to buy. I walked around it and inspected it, trying to look as if I knew what I was doing. Then I sat down behind the wheel and made it very obvious that I didn't really know what you're supposed to do when inspecting a car. I turned on the radio, fiddled with some knobs and then got out of the car again. Since I had driven it a couple of days earlier I didn't ask to take it for a ride.
We went inside to do all the paperwork and I got to see the Carfax papers (a history of the car, services, accidents etc), the service report and the 1 month warranty. Then they ran a credit report on me and it turned out that I wouldn't be able to drive away with the car that day. With no credit score you can't be trusted. They wanted to be paid in full with a check from the credit union before releasing the car to me.
To complicate things even more the amount on the check for the down payment that I had given to Anderson Honda was not enough to be a 30% down payment. I had told Jack that I wanted to make at least 30% down payment and he calculated how much that would be. But 30% down payment means financing at most 70% of the cars value. And this doesn't include sales tax, registration fee and such things. He had just taken 30% of the total sum. So either I would have to write another check to Anderson Honda and rewrite the sales contract. Or I would write a check to the credit union and they would make the check to Anderson Honda big enough.
So two day later a person came out to me at Google twice. First in the morning to pick up my extra check and for me to sign the loan agreement and then again in the afternoon to give me the check to give to Anderson Honda.
Then after work Jack came and picked me up and took me to Palo Alto. There I could finally drive away with my car and introduce it to it's new home. (My parking space outside the apartment.)